If you have poorly shaped, crooked, eroded or broken teeth, cosmetic porcelain crowns and veneers are an excellent way to completely transform your smile. Whether you have a single discolored or broken tooth or you need a complete smile makeover, we can help you get just the smile you envision. Our porcelain crowns and veneers are fully customized in their shape and color to be perfect matches for your mouth. Our highly skilled lab technician will sit chair-side with us to make your crown or veneer  look as natural as possible in every detail.
Veneers
Veneers are often confused with crowns, but they are thin pieces of porcelain bonded over the front of your teeth like a cosmetic (fake) fingernail. Some tooth reduction is almost always needed to allow for the placement of the veneer, but never as much tooth reduction as is needed in a crown. Porcelain veneers are used to improve the following conditions:
Crooked teeth
Broken or chipped teeth
Stained or badly discolored teeth that cannot be bleached well
Spaces between teeth
Badly shaped or worn teeth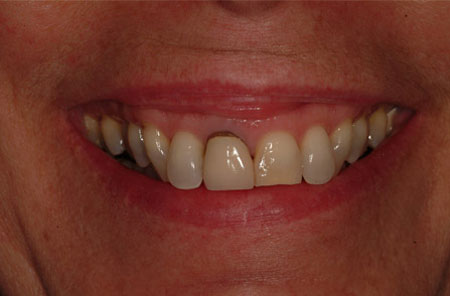 Veneers: Before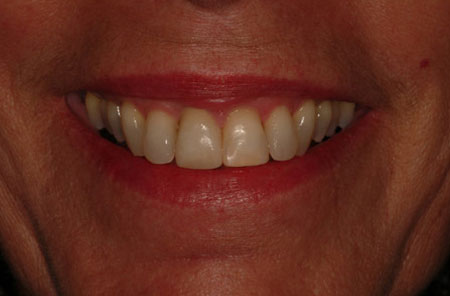 Veneers: After
Crowns
On the other hand, porcelain crowns are used to protect a tooth and restore it to proper function and beauty when aesthetics are a concern and:
Teeth have had root canals
Teeth have had a considerable amount of tooth structure lost due to severe decay or breakage and the remaining walls are structurally weak
An all-porcelain crown is much more aesthetically pleasing than a porcelain-to-metal crown, as it will eliminate the dark shadow around the gums that makes the crown look unnatural.  An all-porcelain crown also allows light to transmit through it giving it similar properties to natural teeth. Although porcelain is a very strong material, it is important to recognize that porcelain is a hard glass, which can chip or break like any type of glass and  need to be replaced with a fresh, new crown.
Either way, cosmetic porcelain veneers and crowns should look and feel natural and match your other teeth in color and shape.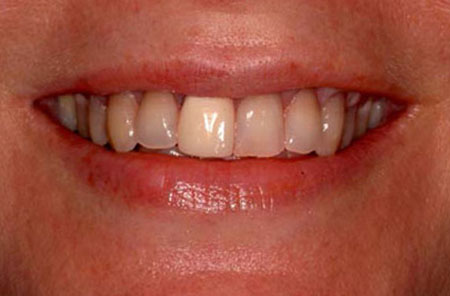 Crowns: Before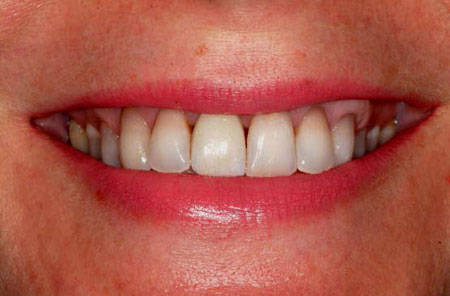 Crowns: After